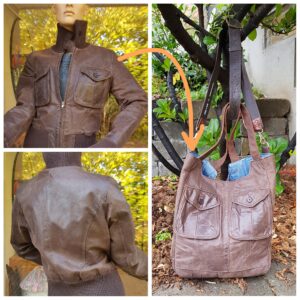 I made this big bag out of af a small, brown leather jacket.
I linned the bag with a denim, blue menshirt which contrasts beautifully with the color of the leather. The shirt was in a very nice condition and good quality but outdated.
The bag closes with a zipper and there are three slip pockets inside. One big and two smaller.
The two pockets outside are the original pockets from the jacket, they are big and are very usefull.
The zipper which closes the bag is also the original zipper from the jacket.
The long adjustable strap, along with the short ones, are handmade.
This shopper is big and can hold all your stuff and a lot more than that! It can be used as a weekend bag as well.
Mesures:
D: about 18 cm (7.2″)
W: about 32 cm (12.6″)
H: about 41 cm (16.2″)